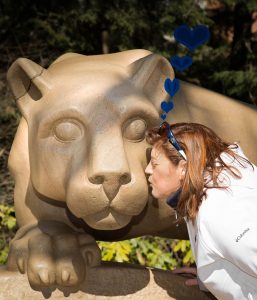 I have been a shutterbug since middle school. In high school, I took several photography classes; learning composition, perspective and development. I loved those classes so much I contemplated attending art school. My logical brain got the best of me, and I decided to go to Penn State and study Health Policy Administration and Business. Best decision I ever made (besides marrying my husband).
Although my education was not in the arts, I remained in love with the camera and often annoyed friends and family with my picture taking. I always had a camera ready to document all the important and not so important times.
In recent years, I have discovered a renewed passion for taking pictures of my beloved Penn State and after much encouragement from my Penn State roomies and friends, I decided to open an online gallery to exhibit and sell my photographs and digital art work.
A Litany of Nittany® is an online gallery of photographs and digital artwork. My hope is to represent all the iconic campus locations with a unique look and include photographs of places around campus you may not have noticed during your visits.  Works will be added to the gallery each month.  As the gallery grows it will become A Litany of Nittany®!!!
I am privileged to be an alumna of The Pennsylvania State University.  I love the time I get to spend in Happy Valley; I consider it my home.  I hope my photographs and digital artwork will bring you fond memories of "home" too.
WE ARE!
Jane McKnight Bass
HHD HPA '91